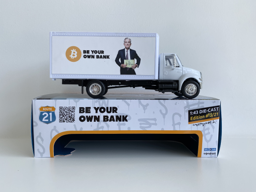 Title
Description
This limited-edition of 21 miniatures commemorates the guerrilla marketing campaign spreading bitcoin awareness amidst the recent regional banking crisis. The art adorning these collectibles was printed on remnants of the actual vinyl used on the campaign trucks. Thus, many will feature marks, scratches and other general imperfections due to their previous usage.
Creator
Date Created
6/21/23
Medium
Mixed
Rarity
13/21
Owner
Card Ident: E5MXG-UKPYI-4ETEY-QMNZN
Report as inappropriate?
If you found something that shouldn't be here, let us know and we'll take a look.