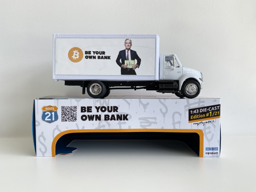 Title
Description
This limited-edition of 21 miniatures commemorates the guerrilla marketing campaign spreading bitcoin awareness amidst the recent regional banking crisis. The art adorning these collectibles was printed on remnants of the actual vinyl used on the campaign trucks.
Creator
Date Created
6/20/23
Medium
Mixed
Rarity
1/21
Owner
Card Ident: NUJL6-UKTDK-PXK6T-H7367
Report as inappropriate?
If you found something that shouldn't be here, let us know and we'll take a look.