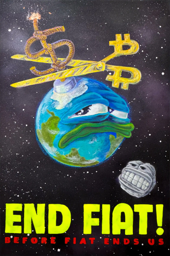 Title
Description
We find ourselves at the brink of war that we all agree could be our last. While the talking heads in the U.S. Corporation Federal Gov't stoke conflict in Europe, Tommy imagines an easy way out. END FIAT! BEFORE IT ENDS US. Started as a live painting at the second-annual HODLween in Charlotte, NC on October 21, 2023 and finished days later at block height #813659.
Creator
Date Created
2023
Medium
Mixed media on canvas
Rarity
1 of 1
Card Ident: TYTKW-ZQYTG-SU2SG-65RCW
Report as inappropriate?
If you found something that shouldn't be here, let us know and we'll take a look.